Tutorials

Aperture
Depth of field
Exposure
Field of View primer
Home made ring flash
Special Flash Effects



Tutorials are given a difficulty rating out of five stars(*). Five stars being the hardest to master.
Flash effects -Article and photos by Dan H.

How to use your flash to obtain special effects.

Difficulty level- ****
Equipment - Off camera flash with either a flash cable or that can be remote controlled by the camera.


Introduction
Special effects with flash photography are used often in magazines and other publications for advertising or promotion.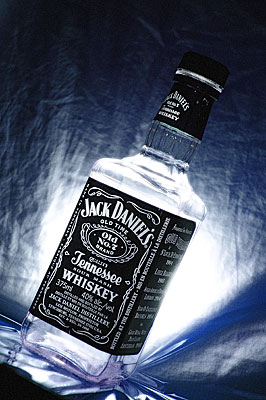 ----------------------------


Jack Daniel's bottle


----------------------------

Setup:
-1 white bed sheet draped over a table with a cushion behind it to hold it up.
-Over the sheet was about 4 feet of clear wrapping paper (clear coloured wrapping paper, $8.99 at local craft store)
-The flash itself is lying sideways (portrait orientation) directly behind the bottle, behind the sheet and on the table. Nothing propping it up.

Equipment:
-Camera: Nikon D70
-Lens: 18-70mm
-Flash: Nikon SB800

Settings:
-Flash: on remote (if you need help with remote I would be happy to chat with you on MSN or e-mail)
-Flash: in manual setting, 1/16 power - set by camera in flash menu.
-Camera: 1/90s at f/8, ISO200
*some settings aprox

Post processing:
-Photoshop filter effect.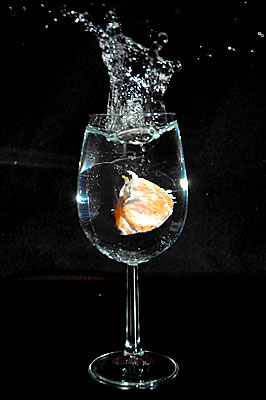 ---------------------------
Single orange shot
---------------------------

Setup:
-White paper towel on table with a black fabric studio background draped over something to prop it up in the BG
-Nice quality wine glass (very clear)
-The glass was almost completely full (for best splash effect)
-Flash was off to the left, just slightly behind the black background in order to avoid getting any light on it

Timing:
-I had my hand on the shutter button and I was dropping the orange, it was very simple, as I let go I hit the button and it worked great

Equipment used:
-Nikon 18-70mm (kit lens for D70)
-Nikon SB800 flash

Settings:
-Flash: on remote
-Flash: in manual setting, 1/16 power
-Camera: 1/90s at f/8, ISO200
*some settings aprox

Post processing:
-Photoshop, levels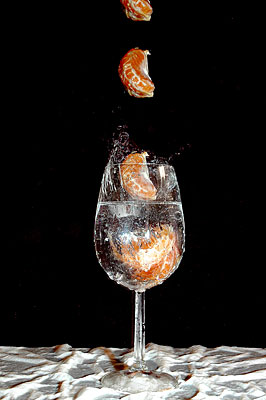 ------------------------------


Multiple orange shot


------------------------------

Setup:
-White paper towel on table with a black fabric studio background draped over something to prop it up in the BG
-Nice quality wine glass (very clear)
-The glass was almost completely full (for best splash effect)
-Flash was off to the right

Timing:
I had my hand on the shutter button and I was dropping the orange, it was very simple, as I let go I hit the button and it worked great

Equipment:
-Camera: Nikon D70
-Lens: 18-70mm
-Falls: Nikon SB800

Settings:
-Flash: on remote
-Flash: in RPT (repeat) setting, 1/64 power at 5x20hz
-Camera: 1 second exposure time at f/8, ISO200
*some settings aprox
Post processing:
-Photoshop, levels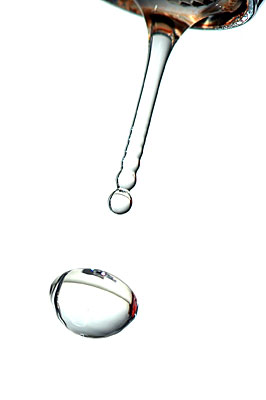 ----------------------


Water tap shot


----------------------

Setup:
-Hand held using a household sink
Timing:
-I had the tap dripping on a slow constant basis and shot by trying to match the timing

Equipment used:
-Camera: Nikon D70
-Lens: 70-300mm G-type lens
-Nikon close up lens attachment No.6T (cost : $100-$150can, it attaches to the lens like any other filter but allows you to get closer to your subject thusly making it bigger in the frame. I was about 12 inches away rather than 2 meters away without it)
-Flash: Nikon SB800

Settings:
-Flash: on remote and off to the left (fairly close to the camera)
-Flash: in manual setting, 1/16 power
-Camera: 1/90s at f/8, ISO200
*some settings aprox

Post processing:
-Photoshop, levels (there was a little hint of background tone left over)